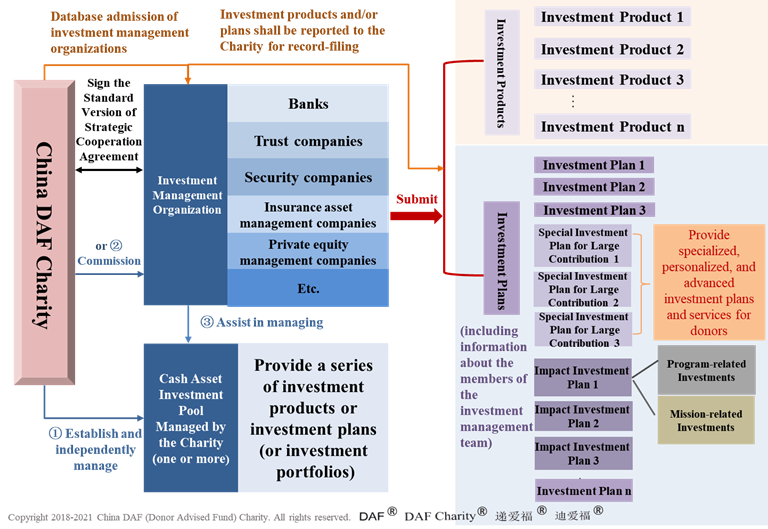 (1) Establish Strategic Cooperation Relationship with Investment Management Organizations
An investment management organization shall fill in all necessary information and the name of its recommender (donor qualification examiners, charitable account supervisors, philanthropic expert consultants disclosed on the official website of the Charity may serve as recommenders for Strategic Cooperation Partners) required for registration on the popup page via the entry of "Signup/Login – Signup – Strategic Cooperation Partners" on the official website of the Charity. Its recommender shall issue a recommendation for the organization. This investment management organization can sign the Standard Version of the Strategic Cooperation Agreement of the China DAF (Donor Advised Fund) Charity and build up strategic cooperation relationship with the Charity after it passes the qualification review.

(2) Database Admission of Investment Management Organizations
The Investment Management Department of the Charity shall provide preliminary opinions on the database admission of investment management organizations, and the Secretary-General's Staff Meeting will grant the qualification of database admission to investment management organizations after it finishes database admission review and confirmation. The determined investment management organization will be qualified for two years. If neither party has sent a written request to the other party to terminate the qualification of the investment management organization within one month before the term of validity expires, then the qualification shall be automatically renewed for an additional two years, and so on in subsequent years.

Please refer to the Contribution, Investment, and Granting Guidelines of the China DAF Charity for details about the process of becoming an investment management organization of the Charity.

Click Here to Download:

Standard Version of the Strategic Cooperation Agreement of the China DAF (Donor Advised Fund) Charity

Confirmation Letter Regarding the Standard Version of the Strategic Cooperation Agreement of the China DAF Charity

Confirmation Memorandum Regarding the Standard Version of the Strategic Cooperation Agreement of the China DAF Charity
Click Here to Enter:
Apply to Become a Strategic Cooperation Partner
List of Investment Management Organizations as Strategic Cooperation Partners